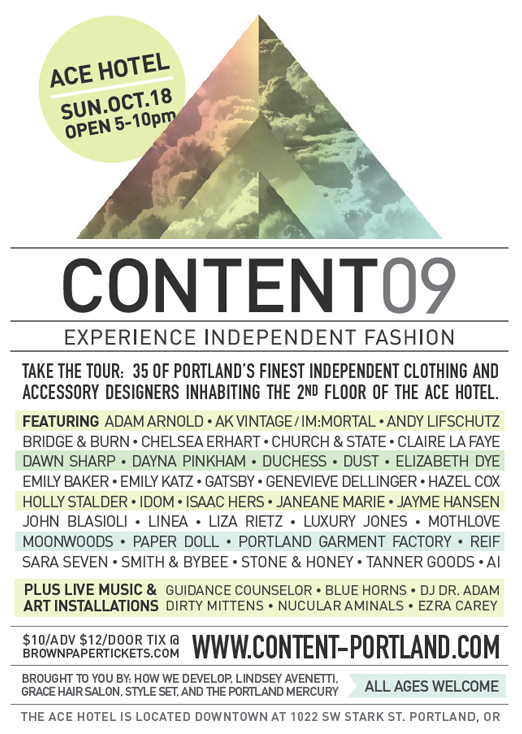 just under a week to go! here's a little more info on the event itself:
CONTENT
will occupy the entire 2nd floor of The Ace, allowing designers to take over each hotel room and transform it to their liking to convey the unique identity and vision of their individual brands. The event "is designed, in its curation of talent and selection of venue, to harness and highlight the individuality stemming from the independent fashion community". Although
How We Develop
will collectively occupy one of these rooms, creating the environmental translation of their brand identities and visions together, this event will by no means be all about them. Designers of all types will be involved, from clothing to accessories, 38 in total, will be given a chance for exposure, under the Context of their choosing. Brand offering range from frilly dresses to carved wooden sunglasses to feathered hats, so the experience of drifting through the 28 rooms will truly be a unique and hyper-sensory one.
In addition to the fashion element, HWD has invited multiple fine artists to realize installations in the Cleaners reception space adjacent to the hotel, and has booked a diverse bill of musicians and DJs to play in the Cleaners and hotel lobby and mezzanine. There will be cash bars and refreshment tables scattered throughout the space as well, so those of age can enjoy a glass of wine as the stroll around and soak in the creative energy (although the event is all ages over all) It has all of the ingredients of an inspiring creative whirlwind of an evening..."
you can also watch a little video right
here
hope to see you there!